This event is available to all players. Doing various tasks will be rewarded with chests. Completing the event requires gold purchased God Tokens which grants access to the final chest.
Requires Village Level 16 to play.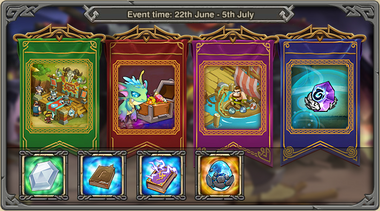 Mechanics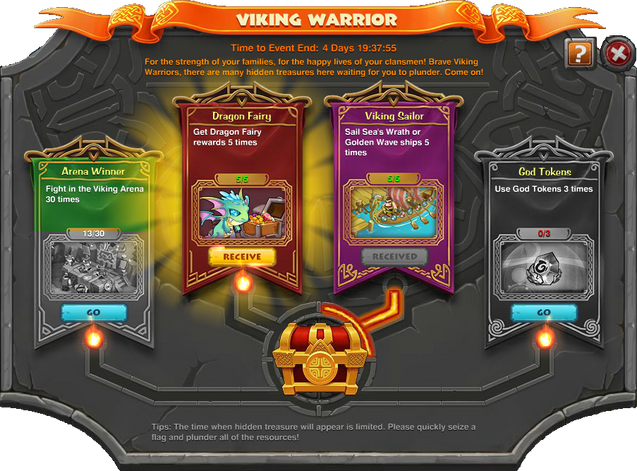 Players must complete 4 different tasks a certain number of times to open 4 different chests. Opening all 4 chests grants access to a fifth final chest with more prizes.
Chest 1- Arena Winner
Fight in the Viking Arena 30 times
Chest 2- Dragon Fairy
Get Dragon Fairy rewards 5 times. Dragon Fairies can only be found in levels x.4 and x.8, for example levels 1.4 and 3.8. They have a high appearance rate but are not guaranteed to appear. Defeating the dragon fairy does not count. The package left behind must be collected for this counter to increase.
Chest 3- Viking Sailor
Sail Sea's Wrath or Golden Wave ships 5 times
Chest 4- God Tokens
Use God Tokens 3 times
Prizes
Chest 1- 3 Tribal Armbands, 30 Regular Wild Python Tonics, 5k silver
Chest 2- 5 White Wax, 30 Solid Bronze, 5k silver
Chest 3- 10 Sacred Crystals, 2 Materials Boxes, 10 Research Guides
Chest 4- 2 Viking Skill Books Lv1, 1 Ice Dragon Egg, 1 God Token
Final Chest- 3 Excellent Cornelians, 5 Tribal Armbands, 5 Hourglasses, 20 Research Guides
God Tokens and Deep Sea Fishing
The Deep Sea Fishing Event has a decent possibility of winning God Tokens. This is one method of completing the event for free players. The Deep Sea Fishing Event usually takes place right before the Viking Warrior Event.