This is a VIP TOP USD event. Money must be spent to participate in this event.
Available at village level 10.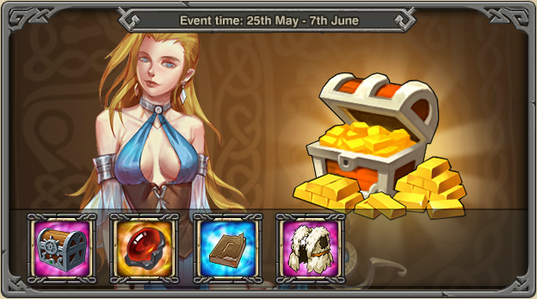 Mechanics
Spend real life money to top up.
Each pack can only be collected once.
You can collect packs during the event and for 3 days after the event finishes. Uncollected packs are forfeited.
Money spent on this event is not carried over to the next round.
Packs
Kreds are spent on Kongregate while USD is used on Armor Games.
The 2000 Kreds and 200 USD Pack has added additional items 17/6/15.
Amount
Contents
Kreds
USD
Gold
Silver
Odinite
Milk
Excellent Cornelian
Research Guides
Viking Skill Books Lv.1
Tribal Armbands
Bull Horns
Normal Flint
Sacred Crystals
God Tokens
Fashion Piece
Random Special Attire Chest
Equipment
10
1
2000
10
1
100
10
10
2500
2
10
500
50
50
5000
800
4
8
1000
100
100
10k
1200
8
10
20
100
Dragon Claw (Epic Orange Weapon)
2000
200
200
10k
1600
4
16
2
5000
500
500
15k
1600
6
20
2
50
10k
1000
1000
15k
1600
10
20
50
1
20k
2000
2000
25k
2000
20
30
120
1
Ice Jacket (Perfect Purple Armor)