WARNING, LOT OF MISTAKE BECAUSE TOO OLD. A lot of update after this (tower level need to be at least excellent II-30-40 and new mini-boss in wave 1). THIS SECTION NEED TO BE UPDATED, but the setup is probably correct anyway...
Queen's Nest is the Boss Level for Dragon's Fury Volcano.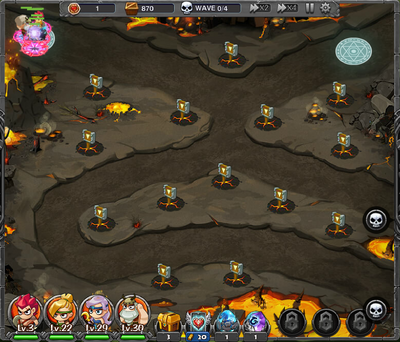 Cruel Mode
Lives: 1
Starting Goods: 870
Allowed Towers: Altars, Catapults
Waves: 4
Wave 1:
Middle: 18 King Volcano Beetle, 21 Lavamentor
Bottom: 51 Volcano Beetle, 15 King Volcano Beetle
Wave 2:
Middle: 32 Young Flame Dragon, 20 Witch Handler
Bottom: 34 Flamentor, 24 Witch Assassin, 20 Bone Dragon, 12 Red Dragon
Bottom extra?: 18??? Flying Volcano Beetle, 1 Red Dragon Queen (Boss)
Wave 3:
Middle: 24 Young Flame Dragon, 16 Windmentor
Bottom: 16 Bone Dragon,
Bottom extra?: 28??? Flamentor, 14??? Witch Assassin, 10 Lava Gigantor
Wave 4:
Middle: 57 Young Flame Dragon, 69 Bone Dragon, 15 Corpser Handler, 48 Red Dragon
Bottom: 60 Flying Volcano Beetle, 1 Red Dragon Queen (Boss)
Bottom extra?: 21??? Red Dragon Guard, ??? Windmentor, ??? Witch Handler?, ???
Strategy:
Towers / Skills Needed: Earthquake, Multi-Catapult, Altar of Witches + Toxic Cloud
Tower Level Needed: Catapults Excellent-1-30, Altars Excellent-2-30 (I dont remember the exact level...)
Initial Setup: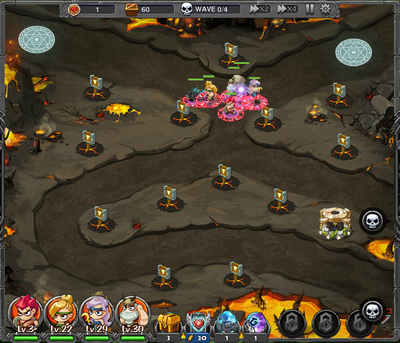 Build an Earthquake tower as shown. Place heroes right behind where the paths meet.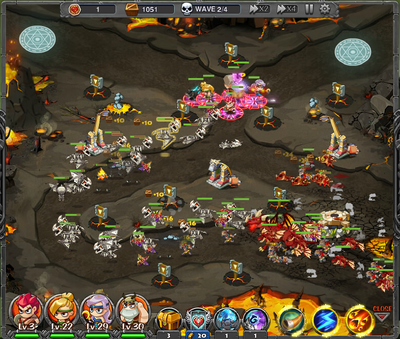 When you get more goods, build 3 Multi-Catapults as shown. Build them from right to left as you get the goods.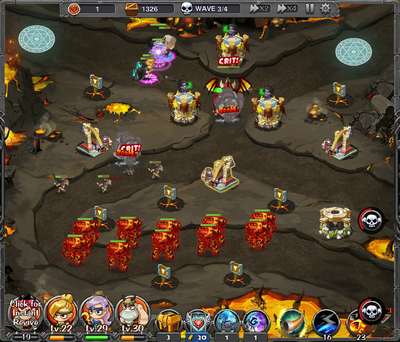 Build 3 Altar of Witches towers as shown. Build the one on the the left first, then the right, then the top. Buy 1 level of Toxic Cloud when needed to kill a swarm of flying enemies.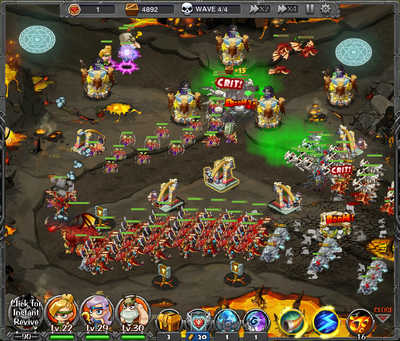 Build 2 more Multi-Catapults and 2 more Altars of Witches as shown. Again, get/upgrade Toxic Cloud when needed to kill a swarm of flyers.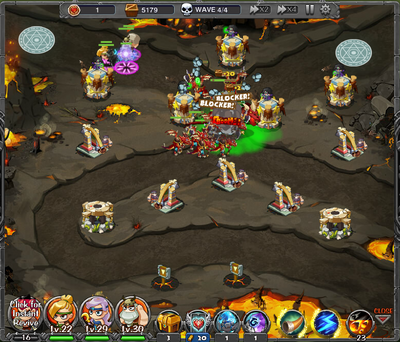 Add one more Earthquake where shown. Continue to upgrade Toxic Cloud on the Altars to kill remaining enemies.
If you still can't beat the level, Fortify Altars, or try replacing 1-2 of the Multi-Catapults with Altars of Witches + Toxic Cloud when the swarms of fliers come.