This Event costs real money. It is a direct purchase of in game goods.
Available at level 10.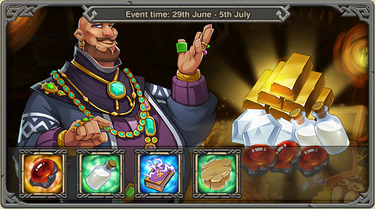 Packs
This Event offers the player two packs, Honor Pack and Glory Pack, that can be bought. They both have 400 gold, 8 Excellent Cornelians, 20 Milk, and 5k Silver. The Honor pack will have 50 Research Guides while the Glory Pack will have 20 White Wax.
Each Pack costs 30 USD or 300 Kreds. You can only purchase each pack once.
Tips
The difference between the two packs is either 50 research guides or 20 white wax. Smog forest offers fairly easy access to white wax and daily tasks offer 1 white wax daily while research guides are generally limited for many players. Buyers should probably value the research packs over the white wax.